We're a decade deep into the tech talent crunch, and there's no end in sight. The landscape of outsourcing has been reshaped in the past five years, courtesy of the gig economy and remote work.
The dream of recruiting an all-star, in-house team has also been given a serious reality check, thanks to the Great Resignation. But don't think this lets anyone off the hook - businesses aren't cutting their tech teams any slack.
With so many challenges, tech leaders need to re-evaluate and revisit their playbooks on where to source top tech talent. The question isn't just about where to find these resources, but also about picking partners that will deliver on time, on budget, while minimising additional work on your part.
To help you navigate this brave new world, we've put together a guide that cuts through the clutter, laying out the good, the bad, and the (occasionally) ugly pros and cons of six key tech resourcing models, read on to discover the best partners for digital product development, technical delivery, project implementation and more.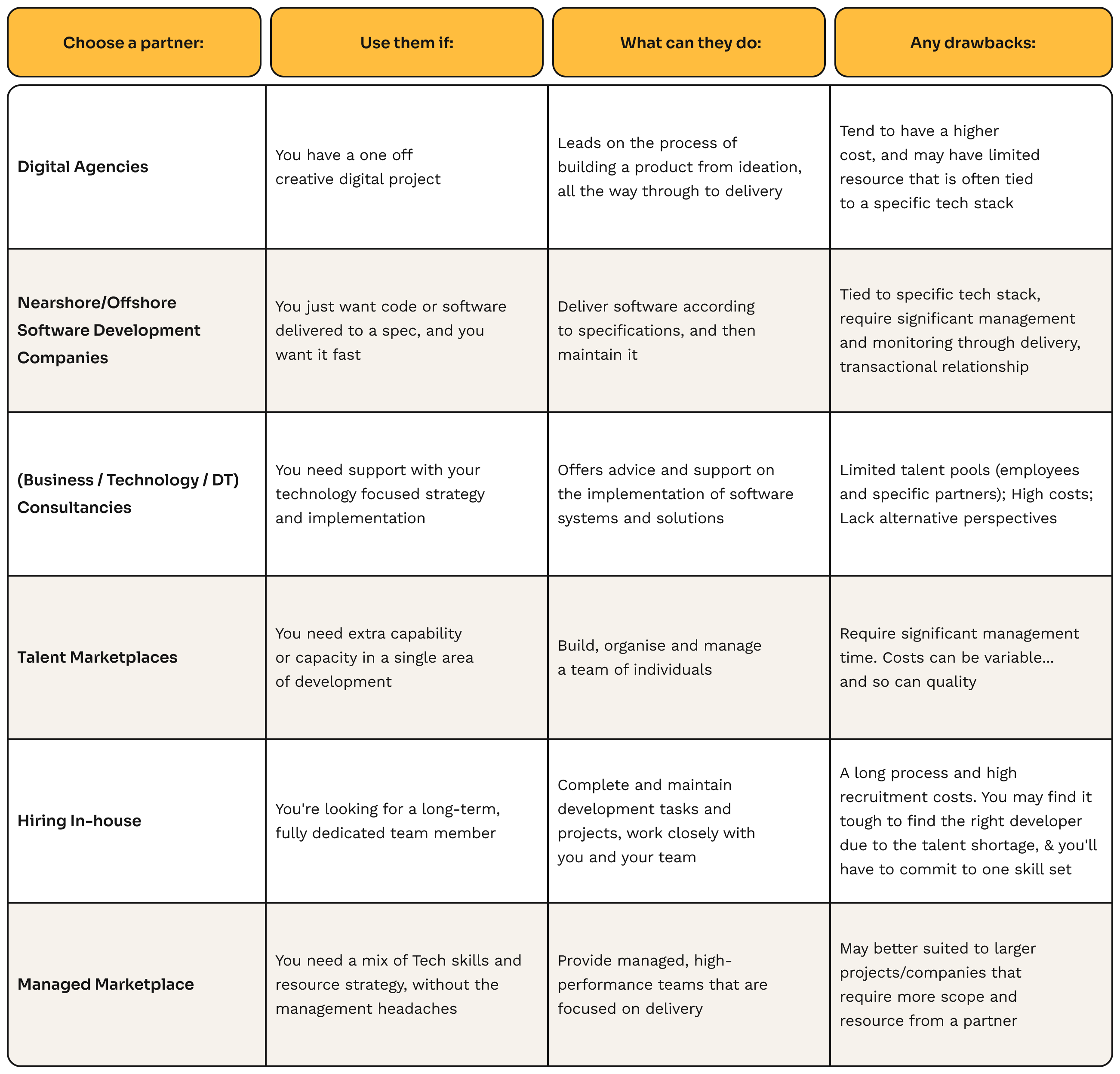 Digital Agencies
Best suited for creative, one-off digital projects, digital agencies guide you from ideation to delivery. They deliver high-quality results but are often limited to a specific tech stack and come with a higher cost.
They can offer a collaborative environment, but team selection and speed to start can be hampered by capacity constraints. Engaging with digital agencies usually involves some amount of flexibility in working models.
Explore more about digital agencies in our detailed post.
Nearshore and Offshore Software Development Companies
These companies excel at delivering software against specifications. They typically offer the lowest entry costs, but require significant management overhead. Cultural fit and collaboration can also be challenging due to geographical and cultural differences, particularly if you choose the offshore option.

On the other side of the coin, nearshore options will likely be able to sit alongside your existing team and match your ways of working more easily, but offer a higher price point, making it a good option if you want to reduce management overhead.
Development companies of both types also typically focus on a specific tech stack, and require additional organisation and management input, which can mean limited capacity and a slower speed to start.
Learn more about Nearshore and Offshore Software Development Companies in our in-depth analysis.
Business and Digital Transformation Consultancies
Consultancies are masters at providing technology-focused strategy and implementation. They offer high-quality service (albeit at a high cost), but may come with limited talent pools and set processes with less flexibility. They can be a strong long-term partner, but their capacity is often low, and they may not always have the latest tech experience.
Find more about the pros and cons of consultancies in our comprehensive guide.
Talent Marketplaces
Talent marketplaces are appealing if you're looking for individual skillsets. They can potentially offer lower upfront costs (although this may depend on the experience levels of the freelancers you select), but come with a significant management overhead.
These marketplaces will let you increase capacity quickly, but the nature of freelancing means individuals may not be well-suited to delivering an entire project, or for work that has a longer timeline or requires ongoing maintenance.
Talent marketplaces can start quickly but may not solve long-term challenges.
Dive deeper into Talent Marketplaces in our full post.
Hiring In-house
If you're seeking a long-term, fully dedicated team member, hiring in-house might be the best fit. It's a high-cost model with variable quality but offers high levels of collaboration and lets you find the perfect cultural fit. However, it pays to be realistic about the current talent shortage seen across the tech industry, and about the long lead-times associated with hiring your own people.
The capacity and capability can vary depending on how many staff you are able to hire, and the level of talent you can attract. It's up to you to find the right talent and provide the right technologies to enable your development team.
Check out our extended review on hiring in-house to learn more.
Managed Marketplaces
Managed marketplaces are a fairly new addition to the field. Where traditional marketplaces offer very transactional interactions with tech talent, the managed marketplace is highly focused on building long-term trust and establishing a supporting relationship with you, the client.

A managed marketplace will offer you access to a complexity of services, partnering with you over the long-term and taking a much broader measure of responsibility. You can typically expect a managed marketplace to offer a high level of quality assurance, and a full suite of supporting services, reducing risk and ensuring high-quality delivery and minimum management responsibilities on your part.
Managed Marketplaces excel at tech skills and resource strategy. They offer high-quality, high-value services, typically with a comparatively low real cost of delivery. These platforms have high capacity and capability and can help you get projects started very quickly. They offer flexible ways of working and are focused on outcomes, making them excellent long-term partners.

Uncover more about managed marketplaces in our in-depth post.
This guide strips down each model to its bare bones, laying out the benefits and drawbacks in plain language. For a cleaner, more concise perspective, check out our infographic summary.
Knowing the strengths and pitfalls of each model allows you to make a calculated decision that matches your specific project needs. After all, the right delivery partner could be the missing piece that catapults your technical delivery to success.
When choosing a technical partnership, you need one that can keep up with the scope and ambition of your technical products, projects and services. So, choose smart, step forward with certainty, and transform your delivery aspirations into tangible outcomes.